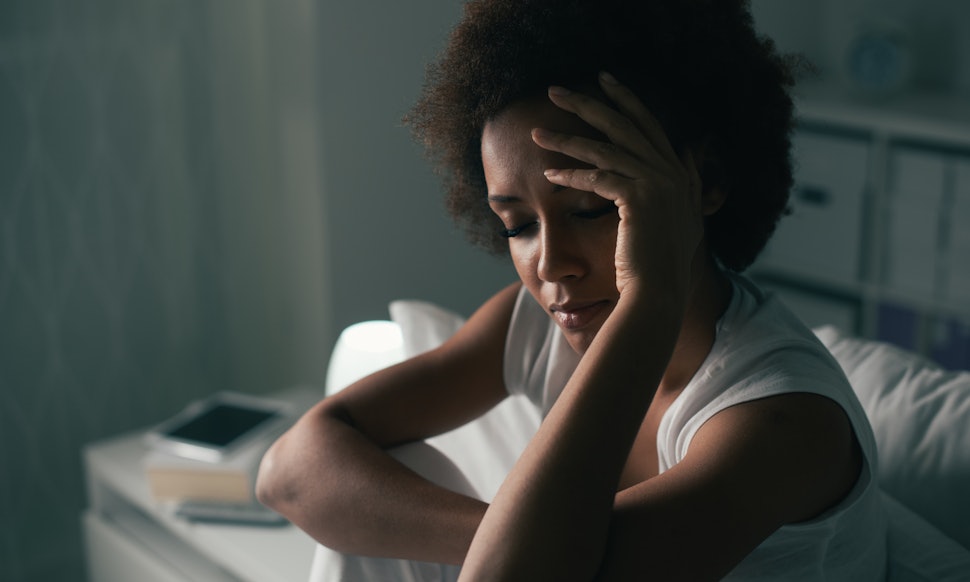 Chances are good that you've experienced insomnia at some point in your life. According to the American Sleep Association, between 50 and 70 million adults have a sleep disorder, and up to 20 percent of those folks have serious insomnia, with periods of trouble sleeping lasting up to three months, the American Academy of Sleep Medicine reported. Chances are, you're also aware of common causes of insomnia, like drinking too much caffeine and an out-of-whack sleep schedule, but there are plenty of weird things you didn't know cause insomnia, and those could be seriously messing with your ability to get quality zzz's.
Dr. Jerald Simmons of Houston-based clinic Comprehensive Sleep Medicine Associates tells Bustle that people with insomnia can suffer from sleep initiation (also called sleep onset) insomnia, or sleep maintenance insomnia. Sleep initiation is what it sounds like; folks who suffer from it will have trouble getting to sleep, and they run the risk of starting to associate anxiety with bedtime. People with sleep maintenance insomnia, however, will get to sleep, but will suffer "frequent and prolonged nocturnal awakenings," according to sleep medicine group Tuck.
Whether you have initiation or maintenance insomnia, whether you have chronic insomnia or the occasional bout, being aware of these lesser-known insomnia causes can help you better maintain your sleep schedule.
1. Brushing With Mint-Flavored Toothpaste
Giphy
Get ready for one of the weirdest possible causes: Mint toothpaste. There's a reason teachers often keep peppermints on hand during test days. Studies have shown that it's possible mint can perk you up, with one study finding that though more empirical research was required, "peppermint oil can indeed reduce sleepiness." When you're taking the SATs, enhanced alertness is exactly what you want, but when you're trying to get to sleep… not so much.
2. Traveling Eastward
Giphy
It turns out flying from Los Angeles to New York City can be a lot rougher on your sleep schedule than going from New York City to Los Angeles. "Typically if you're traveling eastward, you're in a new time zone you aren't adjusted to yet," Simmons says. And while that's true when you travel westward too, if you go east, you're often not ready to sleep when it gets dark, and consequently, your body's clock is being told it's set to the wrong time.